Last night, I was running at the gym (way too cold outside for that stuff) and SportsNation was on the telly in front of me. They were debating the NFL MVP and their top five candidates were:
Tom Brady, Michael Vick, Phillip Rivers, Matt Ryan
, and
Aaron Rodgers
. Then I took a quick look at Peter King this morning and his MVP watch list is:
Tom Brady, Aaron Rodgers, Matt Ryan, Drew Brees,
and
Maurice Jones-Drew.
As much as I really, really like Aaron Rodgers, if the playoffs started now, his team would be out of it, so I have to ding him. Same goes for Phillip Rivers and I don't care about his mad numbers. The best player on a fair to middling team hardly qualifies as league MVP by my reckoning.
As to the rest, I love that King included MJD on his list because if the Jax Jags hang on to win the AFC South, it will largely be because little big man carried them there.
Michael Vick likewise. No way the Eagles are sitting atop the NFC East at 9-4 with Donovan McNabb or Kevin Kolb in there.
And a strong case can be made for Matt Ryan, too. The guy is so reliable in big moments and he is remarkably consistent.
Right now, Brady's hair has morphed from
'Justin Bieber'
to
'roadie for a Grateful Dead Tribute Band'
(they're never billed as 'cover bands' are they? They always call themselves 'tribute' bands. Anyway.) Regardless of how his Ubermodel wife is instructing him to keep his coiffure, Brady is playing quarterback better than I've ever seen the position played. Whereas Peyton Manning because always looks for the big score, big throw, dagger pass, Brady just takes what the defense gives them and will kill teams by any means possible, frequently through attrition. He's happy to have yards after the catch stats. He gets the ball out so quick, in such perfect spots for his receivers that he throws them open and, even if he's throwing to a guy who is just four yards past the line of scrimmage, he puts them in terrific positions to make plays. I thought the Patriots would be good again this year, but I didn't think they'd be this good but they are the best team in the NFL largely due to Tom Brady.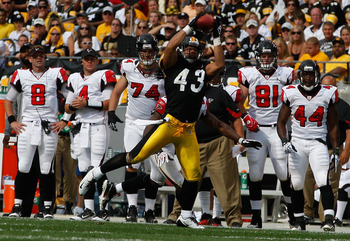 But let me make a case for
Troy Polamalu.
(You had to see that coming, yes?)
First of all, so quarterback-centric is the league that quarterbacks are almost teeing off from the ladies tee as it were, putting guys like Troy or Terrell Suggs or Justin Tuck or Clay Matthews at a serious disadvantage. For a defensive player to have the kind of impact that Troy is having speaks volumes about his ability to impose his will on a game while playing a position that isn't built for to do so.
He is the best defensive player in the game and I believe he might be the best overall player in the league. At the very least, he should be in that conversation. It's not just that he makes tackles, it's
when
he makes tackles. It's not just the forced fumbles, it's
when
he forces them. The interception
always
seem to come at moments where the game could turn against the Steelers for good.
Since he was out for most of last year, it's easy to point to what the Steelers are with him and what they are without him.
Without Troy, the Steelers finished 9-7, just out of the playoffs and nobody who witnessed it will ever forget that five game stretch of stench they left on the field. The Steelers defense had just a dozen interceptions last year (terrible) and allowed a little over 20 points per game (right in the middle of the pack). Sure, the special teams suck didn't help them any, but the defense didn't come up big in any situations when they needed it either. With him, after only 13 games, they have 17 interceptions (six of those are Troy's), they allow just over 15 points per game. The defense is not just keeping them in games, its actually winning games. And they continue to do that without the best run stopping lineman in the league because of Troy's ability to come up big when the moment demands it.
The numbers are startling, but if I look hard at the Steelers wins and losses, I can point to at least three games they would have lost without him, probably four. I realize it's hard to project what would have happened in the abstract. Football is complicated, tons of plays are run and 22 guys are on the field for each one, so I cannot say with complete and total certainty that the Steelers would have lost these games. Still ... I'm pretty sure they would have lost.
-- the season opener to Atlanta
. I know Matt Ryan is still shaking his head wondering where the hell Troy came from to in the 4th quarter of that game. Simply put, he just appeared at the sideline, like a freaking apparition. The interception gave the ball back to the Steelers offense in field goal range. That game wouldn't have even gone to OT had Jeff Reed done his job (don't get me started), but I think there's a very good chance they lose that one without Troy.
-- at Buffalo.
Troy's ridiculous at the goal-line interception saved the Steelers asses. Again.
-- at Baltimore.
With an anemic Steelers offense, on the road, and in need of a big play, it was Troy, because it's always Troy, causing the fumble that may have won game and might have won the division.
-- versus Cincinnati.
With the whole team suffering a Ravens hangover, and with the offense playing even worse than they had the week before in Baltimore, the team needed something. Anything. A loss to the Bungles would have undone almost all of the good work from this season. Bengals 7, Troy 23.
Without Troy, they could easily be 8-5 and battling for a spot; they could be 7-6 on the outside looking in; and they could be worse 6-7, much like they were last year. Instead, the Steelers are 10-3, atop the AFC North and in position to secure the #2 seed in the playoffs.
Largely due to just one man. Just what about that doesn't say MVP?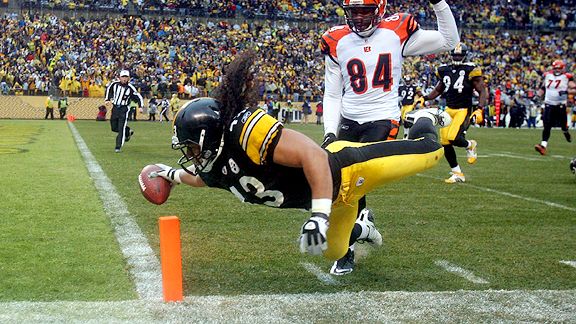 The Balls & Whistles MVP tracker:
Troy, Brady/Bieber/Burnout, MJD, Vick, Matty Ice.