The hottest team in hockey has not only the hottest forward in hockey in the other-worldly Sidney Crosby, but also tremendous chemistry, and coach Dan Bylsma has the Midas touch of late in stringing lines together. Doesn't matter who is out of the line up, he just moves people around and plugs them in and it seems to work. They are going to have to lose a game sooner or later, but so far, they've been outworking teams and when you combine that kind of consistent work with the kind of talent they have, you end up with an 11 game winning streak.
The top five reasons the Pens are clicking right now:
1. Flower is a pistol.
I have no idea what was wrong with him the first month of the season. He looked distracted. Like he was thinking about pie, rather than the game in front of him. Maybe it wasn't pie. Maybe it was mousse. Whatever it was, he let in soft goal after soft goal. And usually very early in the game. I have no idea what that was about or, more importantly, how he fixed it. But fixed it seems to be. He started to turn a corner in mid-November and seems to me that he's been getting better and better ever since. For the season, his goals against average is 2.33, which matches his career best of 2.33 in 2007-2008 (when he helped carry the team to their first Stanley Cup Final appearance), but if you look at his stats for just the last month or so when he started to really bring it, he's allowed just 22 goals in 13 games (starting in mid-November.) That's a goals against average of 1.69.
I've missed only a handful of games in the Marc-Andre Fleury era and I can say that it's not just numbers. When he's going good, the team seems to really feed off of it. If he makes just one spectacular save in a game, they seem to rise up collectively around him. Memory is a funny thing, but of the Pens 2008-2009 Stanley Cup run, I remember a few moments, a few snapshots from that post-season, that feel as though they happened 15 minutes ago and the clearest memory I have of that post-season run is Flower stoning Alex Ovechkin on a break away in the Capitals series. I believe the series, and maybe the whole magical post-season run, turned on that one save. Everything works better when Flower is hot.
2. Kris Letang and Crazy Eyes Killer.
The defensive pairings are all working really well. Deryk Engelland is the muscle that Alex Gologoski needs to balance him; Paul Martin and Zbynek Michalek are just steady-eddies together. But the stars of the show, are the two best defensemen the Pens have, and they're paired together.
Crazy Eyes Killer, a/k/a Brooks Orpik, is about as good a defenseman as you might find in the league. He's a heavy, an enforcer, and I don't mean that in the way that those terms are generally used in hockey parlance. He's not a fighter, not an instigator and not one to take foolish penalties. Through 24 games, he has just 18 penalty minutes. (The league's biggest wanker, Sean Avery, leads the NHL in penalty minutes with 103. Think about that.) No, Orpik is so solid, so steady that he's able to be tremendously physical without ever playing dirty or taking cheap shots. And he is the last man on earth I would want hitting me along the boards. Ouch.
All of which frees up Letang to work his magic. Letang is the most elegant skater on the ice most of the time. He's fast. He's got a quick release and a knack for scoring -- it's no mistake that Sid feeds the puck out to him. In the past, Letang has been paired with other offensive-minded defensemen, which I think tied his hands, forced him to cover a bit. With Orpik out there being the Yin to Letang's Yang, he's blossoming into one of the best scoring defensemen in the league. They go together like Butch and Sundance. That's some high praise indeed.
3. Paul Martin.
Actually, I should have just called this one Ray Shero because Shero seems to make all the right moves in the off-season. He's always looking to tweak the team without disrupting the core of it.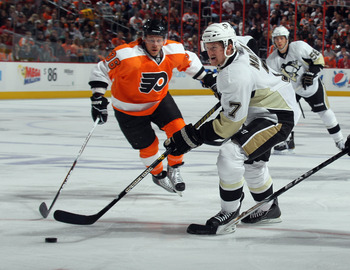 All of which brings me to Martin, the defensive presence they have missed since Rob Scuderi left. In fact, I think the team has sorely missed the defensive pairing of Scuderi and USS Hal Gill since the Cup year. The teams was weaker defensively last year -- anybody remember Sergei Gonchar standing there like a statue as the Montreal Canadiens just blew by him at the blue line? Then they lost Mark Eaton, one of the more reliable defensemen, to free agency, making the defense even weaker. They had recalled Knuckles Engelland from Wilkes-Barre and then Shero went to work, his biggest moves being to bring in Martin and Michalek.
It took some time for them to work together as Michalek was out with some injuries, but they have developed real chemistry and trust together. Plus, Byslma & Co. fixed the anemic power play unit by putting Martin at point. He's a very straight forward kind of player, not one to dither around in the defensive zone considering a hundred and one options as time drains away from the man-advantage. Nope, guy puts his head up and just brings the puck up. It's made a huge, huge difference.
4. Depth.
Without Jordan Staal for the whole season, without Aran Asham for a chunk of games, without Michalek for a chunk of games, without Evgeni Malkin, without Mike Comrie (who it was thought would be a great wingman for Sid), they just keep on chugging. Mark Letestu and Chris Conner are playing themselves into starting spots even when Malkin and Staal are back. But what to do with Craig Adams? Mike Rupp? These are good problems for a coach to have -- to have too many players and not enough starting spots.
5. Sid.
You can never write too much about what Crosby does on the ice. Sure, he scores a ton and he's on a real tear during this winning streak. And he feeds perfect tape-to-tape passes to his linemates. He handles face offs. He contributes on the penalty kill. He's made a home for himself beside the night, fighting to get dirty goals. Only somehow, when Sid makes them, they're spectacular. He's shooting the puck more from outside. Every time I turn on a game, I marvel at something else he does. Every time.
Wednesday night versus the Toronto Maple Leafs, he broke his stick with a Leaf bearing straight down on Fleury. So he just got right in the way, and was hitting the ice to block a shot with his body, which forced the Leaf to go around him and took him off line. I don't even think the guy got a shot on net. When the best offensive player in the game sells out like that, how can his teammates not?