Just starting to turn the engine over on the AFC Championship Game build up, I thought I'd post some links and quotes from out of town or national analysts on both the Steelers victory and the Jets victory. On with it.
Here's what people were saying after the Steelers came back to beat the Ravens:
From
Peter King at SI
:
That it was. In a cruel twist that will hurt coach John Harbaugh and GM Ozzie Newsome even more when they realize it, the nobody rookies for the Steelers beat the rich free-agents for the Ravens. Anquan Boldin, the $8 million receiver acquired from Arizona last spring, caught one ball for minus-two yards. Veteran T.J. Houshmandzadeh dropped what would have been a fourth-down conversion pass from Joe Flacco with 63 seconds to go and Baltimore trailing 31-24. "I can't believe it happened,'' a stunned Houshmandzadeh said later. "I can't ever recall dropping the ball when the team needed me. It's almost like it's not real.''

Inexcusable on both counts, those two guys coming up so small ... and Flacco (an underwhelming 16 of 30 with two turnovers) and Ray Rice (a crucial fumble) helping the collapse.
From
Gene Wojciechowski at ESPN.com
:
The Steelers didn't fold. They unfolded. For the first 30 minutes they played like they were still on a bye week, but then came the playoff smelling salts.

"I think both teams think they can impose their will," said Farrior. "We always believe we can do that. It's a little tough when Baltimore thinks it can do the same thing.''

Thinking and doing are two different things. You could see it in the Ravens' body language. You even could see it in the Heinz Field press box, where members of the Ravens' front office, including general manager Ozzie Newsome, spent much of the second half shaking their heads in disbelief, burying their heads in their hands, slamming tabletops (not Newsome, by the way), and delivering loud, exasperated sighs.
From
Peter Schmuck at the Baltimore Sun
:
Who knows why fate frowns at certain times, but it made a very ugly face at the Ravens at that point. Ray Rice hadn't fumbled all year, but he exposed the ball and the turnaround began. Joe Flacco, who is known for his cool demeanor under pressure, suddenly looked like a guy desperately trying to make up a big deficit instead of a guy trying to protect a lead. You saw what happened.

It would be easy to throw this all on Flacco for making two turnovers on consecutive possessions, but it wouldn't be fair. Just about everybody the Ravens depend on to make an offensive play failed — at some point — to make the kind of play that good playoff teams make. And you can't just look at this game in a vacuum

The Ravens have been doing this kind of thing, in one form or another, throughout this strange (and sometimes wonderful) season. It hasn't been a failure of the offense, though the offense certainly seemed to play well below the potential ascribed to it after the arrival of quality receivers Anquan Boldin, T.J. Houshmandzadeh and Donte' Stallworth. There were defensive breakdowns, too, though the defense certainly carried the team to the threshold of what would have been a huge and potentially historic victory on Saturday.
From
Kevin Van Valkenberg at the Baltimore Sun
:
3. The Ravens still have issues at wide receiver. And it may be time to cut ties with a few of them.

Derrick Mason looked old against the Steelers. He couldn't get separation all game, and despite being targeted several times, he didn't catch a pass for the first time all year. T.J. Houshmandzadeh and Anquan Boldin dropped key passes when their team desperately needed them to make a play. Donte' Stallworth was a non factor all year, including Saturday.

Wasn't this supposed to be the best receiving corps in the league?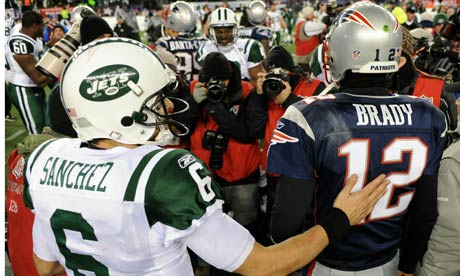 What they were saying about the Jets huge upset of the Patriots:
From
Don Banks at SI
:
Remarkably enough, the 6-seeded Jets are one of four NFL teams still in that particular hunt, and it's not an overstatement to say Ryan is clearly the biggest reason why. Love him or loathe him, Ryan gave his team the difference-making edge on Sunday with a defensive game plan that left Tom Brady and the high-flying Patriots befuddled and off-balance for most of the day.

It was a masterful performance by the Jets, and player after player in the New York locker room gave credit to Ryan and his ability to disguise New York's pass coverages and create the schemes that brought consistent pressure on Brady.
From
Jason Whitlock as FoxSports
:
Trailing 7-3 with 74 seconds left in the half and facing fourth and 4 at the New England 38, Belichick called for a fake punt. Defensive back Patrick Chung dropped the direct snap and the Jets tackled him for a 1-yard loss.

The Jets capitalized, scoring a quick TD to take a commanding 11-point lead.

The fake was ignorant. There was no reason to force anything at that point. The Pats were getting the second-half kickoff. New England panicked. The alleged "smartest" team in football played a dumb football game.
From
Mike Freeman at CBSSportsline:
The Jets are what happens when fearlessness has a one-night stand with cockiness.

The Jets couldn't help themselves, in the end, taunting and talking on their way to the AFC title game against Pittsburgh. They left with a metaphorical middle finger raised high to the critics while simultaneously embracing an almost metaphysical belief in themselves. Would you expect them to be any other way? Would you want them to be any other way?

The Jets talk. And they talk. And they talk until their throats are dry and everyone is tired of hearing from them. But the Jets also back up that talk with action. There was no greater example of this than Tom Brady being sacked five times. Or looking frustrated. Or hands on hips. Or cursing at himself on the bench.
From
Tim Graham at ESPN.com
:
There will be a crow shortage in butcher shops across the country. I'm eating mine with a little Caribbean jerk sauce as I write this. It's a bit gamey.

With conviction, I wrote and said on television and radio throughout the past week the Jets would not win. Like so many of you, I was certain the Patriots would smack them around. Sure, I gave conciliatory analysis on how the Jets could win: dominate on the ground, dominate on third downs and Jeff Gillooly kneecapping Tom Brady during the national anthem.

But as I mentioned in my weekly AFC East chat, people in their right mind couldn't predict the Jets to win Sunday after watching them get razed in Week 13.

Not even Jets icon Joe Namath could bring himself to pick the Jets.
From
Bob Ryan at the Boston Globe
:
What do you say when you are whipped, fair and square? What do you say when there are no freaky happenings, when there are no loose ends, when there are no overtly bad calls, when the other team makes the big plays when it has to and stops you when you need to make some of your own?

What do you say when the other team does exactly what it wants to do and there isn't a damn thing you can do about it? What do you say when the other coach runs his mouth and his team backs him up? What do you say when a verbose rival gets to keep playing and you must pack up and go home, beaten, 28-21, on the field where you hadn't lost a game all season?
...
Of course, the main reason the Patriots fell down in the execution was the play of the Jets. Brady looked comfortable only on rare occasions, the best example an eight-play, 80-yard drive that, combined with a direct snap 2-point conversion by Sammy Morris, got them within 3 points at 14-11 late in the third period. But that was the exception on a late afternoon/early evening when he was sacked five times, harassed into many ugly incompletions, and even threw his first interception in two months. The coverage of the Jets defensive backs was positively brilliant.
From
Greg Bishop at the New York Times
:
Momentum, conventional wisdom and common sense pointed toward the Patriots. They had the league's best quarterback (Brady), best coach (Bill Belichick) and, according to many pundits, best team. Brady had just led them down the field for a touchdown and 2-point conversion.

Yet it was Sanchez who took over the fourth quarter, who found receiver Jerricho Cotchery for 58 yards, who lobbed a perfect 7-yard fade that receiver Santonio Holmes caught in the corner of the end zone. Holmes landed his right knee inbounds, then his left foot, as an official's arms extended toward the sky.

The Jets led, improbably, 21-11. All their bluster, threats and name-calling had been backed up.