The annual march to Super Bowl silliness is upon us and everyone is all a-flutter. A few months ago, I even heard Bill Simmons say that he believed we were on a collision course with a Roethlisberger v. Vick Super Bowl. Oy, the mass density of that media day would certainly cause a shifting in the global tides perhaps set off the opening of a crevasse that would swallow Jerr'Jones' Deathstar in Big D right on the spot. Okay, maybe that's just my wishful thinking, but I'm way ahead of myself here. Right now, let's just see how wildcard weekend breaks down.
New Orleans Saints v. Seattle Seahawks, 4:30 Saturday

Teeth have been gnashed, garments rended, and panties twisted over the Seahawks appearance in the playoffs this year, but I wonder, what do they have to do to win? Can they even win?
The Seahawks defense is near the bottom of the pickle barrel, allowing on average 24.5 points per game. By way of reference, the Steelers allow 10 fewer points per game. Meanwhile, the Saints hang up 24 points every week, give or take. I know that the Saints are without the services of their two most reliable running backs, and I know that Drew Brees has thrown a very un-Drew Brees-like 22 interceptions this year, and that Seattle's field is the loudest outdoor facility in the NFL, and that weather can be a factor, but even given all of that, it's hard for me to think that the Saints won't put up five touchdowns today.
What the Saints need to do to win:
don't turn the ball over.
What the Seahawks need to do to win:
hope that Drew Brees turns into Heath Shuler.
New York Jets v. Indianapolis Colts, 8:00 Saturday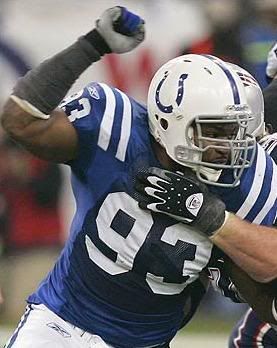 The match up of the day, featuring the coach who never met a microphone he didn't like versus one who I'm not sure is even awake half the time. I value equanimity, but Jim Caldwell always looks like he's thinking about something, anything else but the football game in front of him, like he's day-dreaming about playing a game of catch in the backyard with his grandkids or something.
After Peyton Manning torched the Jets other corner last year, Sexy Rexy Ryan went out and got Antonio Cromartie to balance out Revis Island. The problem for the Jets is the underneath coverage, where they are without safety Jim Leohnard. If Manning finds a way to exploit the middle of the field coverage, the Colts could put up a ton of points. And that means that Mark Sanchez, et al. will need to match them.
What the Colts need to do to win:
give coach Caldwell some Red Bull and protect Manning so he can find open receivers underneath.
What the Jets need to do to win:
promise Santonio Holmes two extra blunts as a bonus for every touchdown he catches.
Baltimore Ravens v. Kansas City Chiefs, 1:00 Sunday
The Chiefs? In the playoffs? Yup. And I love it, because I think, after long scientific studies, that Kansas City fans are among the best in the league. I'm glad to see the playoffs back there.
The Chiefs have the best rushing attack in the NFL, averaging over 164 yards per game on the ground, but if Todd Haley and his coaches think that the Ravens are going to let them get away with that, they have another thing coming. This is not the 2000 Ravens defense. Heck, it isn't even the 2006 Ravens defense. But they are capable of taking away the one thing a team wants to do (run) and make them do something else (pass.) If the Chiefs don't find a way to pass the ball effectively, it's going to be a long day.
What the Ravens need to do to win:
stop the Chiefs running game and let Ed Reed ballhawk.
What the Chiefs need to do to win:
sub-contract with Troy Polamalu to come in and make an amazing, game changing play some time in the 4th quarter.
Green Bay Packers v. Philadelphia Eagles, 4:00 Sunday
First Mike Vick was a pariah, then he just wasn't that good, then he was the league MVP, then he was complaining about getting hit too much, then he was just pretty good. And that's where we are now. Mike Vick, up from Hades, but back down from the Mount Olympus of football. Meanwhile, the Packers defense, a big, big liability last year, has turned into a dominant, intimidating unit this year. Dom Capers is just more evidence that being a great coordinator (he is) does not make you a great head coach (he isn't.)
Both defenses like to blitz and the Eagles have 23 interceptions, half of which have come when they've been blitzing. Meanwhile, the other defense has recorded 47 sacks this year, second most in the NFL. Basically, for both teams, this game comes down to their ability to protect their quarterbacks. Or get to the opposing quarterback, as the case may be.
What the Packers need to do to win:
Find a way to pick up the Eagles blitz and keep Aaron Rogers' clean and upright.
What the Eagles need to do to win:
find a way to keep Clay Matthews out of Mike Vick's grill. Oh, and also bring a fan out of the stands to manage the clock for Andy Reid if things are close in late in the game.