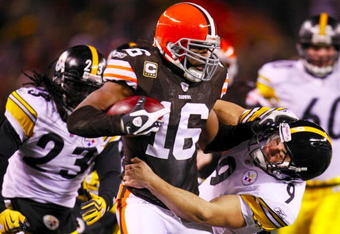 It seemed unthinkable, actually impossible, that a team led by Ben Roethlisberger could lose to one led by Brady Quinn, that a franchise with six Super Bowl trophies could lose to a team that was 1-11 coming into the game, that Mike Tomlin could be outcoached by Eric Mangini. And yet, on an early December, 2009 night in Cleveland, that's exactly what happened.
Cleveland 13 - Pittsburgh 6.
The horror. Oh, the horror.
But the 3-1 Steelers can avoid falling into the same or similar traps, elevate their record to 4-1 (1-1 in division) and re-ascend to their rightful place as perpetual tormentors of the Browns. It's pretty simple and like a jitterbug, it's just three basic steps:
1. No special teams brain farts.
There is no question that return man extraordinaire and Mr. Everything in Cleveland, Josh Cribbs was the best player on the field in last year's abomination of a game. In his career, Cribbs has torched the Pittsburgh special teams units three times for touchdowns. My god, but he must love playing against the Steelers.
The kick coverage teams were the worst in the league last year, so bad that I think high school coaches used film of the Steelers and then said to their charges, "okay, boys, just do it the exact opposite of these guys and we'll be fine." But the coverage teams have been much improved this year and special teams as a whole (except for Skippy's horrible field goal misses) have been a real high point so far, largely due to additions like Stevenson Sylvester, Jason Worrilds and Will Allen. So, before anybody worries about zone blitz schemes or how Pig Ben will fare, those guys need to take care of business: tackle Cribbs. Bottle him up, stay lane sound on returns, don't try to do anything fancy and just stop the guy. Hell, trip him. I don't care. Just get him on the ground.
And it would be nice if Jeff Reed at least pretended he cared, too.
2. Consistent defense.
In last year's nightmare, Cribbs worked out of the wildcat and ran for 87 yards (averaging nearly 11 per touch) and those in Cleveland who have a clue, think that
Cribbs is their best hope
. I tend to agree. So the first thing the Steelers need to do is Stop Cribbs in the wildcat.
Then they have to stay gap sound to bottle up
Peyton Hillis
and after that, it shouldn't be to hard to confuse and harass Colt McCoy.
Of course, I said that going into last year's game ... but still, these Browns aren't the Brian Sipe or Bernie Kosar editions. Which is to say, they just aren't very good offensively. Heck, they came into the season with Jake Delhomme, the man who never met an ill-advised throw he didn't like as their starter, and the underwhelming Seneca Wallace as the back up. Both of those guys are hurt and it looks like the Browns will start rookie Colt McCoy at quarterback. So the Steelers defense doesn't have to do anything spectacular to win this one. They simply have to protect against any big plays, stay gap sound, be violent and thus, contain and smother any vague hopes the Browns might have.
3. Ball control.
It goes without saying this is something I'd like to see more of long term, not merely in this game.
I'd like to see an offense that, while it has Pig Ben at it's disposal, doesn't rely entirely on him, a more balanced attack, with Rashard Mendenhall get at least 22 touches in this game. In the first four games, with defenses keying on him, behind a line that is hardly great (but is, admittedly, better than I thought it would be) Mendenhall managed to average 4.6 yards per carry. With defenses now having to respect the pass, Mendenhall can be even more productive, so let's hope that Arians doesn't forget about him, just because the franchise quarterback is back on the field.
As we all know, the NFL is a funny, cyclical animal. The current cycle dictates that teams are positively obsessed, cuckoo for Cocoa Puffs crazy with "stretching defenses" with the long ball. But in the early years of this decade, teams who dinked and dunked lead the way - the 2000 Ravens, the 2001 Patriots (they later became a long-bomb machine, but in 2001, not so much), the 2002 Bucs and the 2002 Raiders. The Steelers have a guy in Mike Wallace who nobody can catch, so I'm not saying to abandon the long game, but that it would be good to balance that with a short, first-down geared, clock-grinding attack - a passing game that goes underneath to Hines Ward more often. It seems so obvious, but get the ball to Hines. He's a first down machine and doesn't hold all the franchise receiving records by accident. Dude knows what he's doing.
One more thought on the obsession with going deep. Right now, San Diego has the most "vertical" offense in the league -- Philip Rivers leads the league in total yards and in yards per attempt. Yet, the Chargers are a very disappointing 2-3 and I have to wonder if they will even make the playoffs. The Cowboys throw more than any other team - nearly 66% of the time - and they are on the brink of disaster. You just don't want to run a team like Norv Turner or Wade Phillips. I'd like to see the Steelers go anti-Turner, anti-Phillips.
Basically, they just need to not do anything stupid this week and leave the stupid up to the Manginius.