Right after the Steelers get home from Denver, they will cut the roster down to 75 men and less than a week later, make the final cuts down to 53 players. When I was a kid, I remember two things that seemed different. It seemed like they were at camp at St. V's longer and I distinctly remember three cut dates. But memory is a funny thing. It was probably exactly the same, but my conception of time was way, way different.
As to the here and now, here's a handy guide to watching the last two games, who is on the bubble, who is a lock and who may be destined for the waiver wire:
QUARTERBACKS:
They're gonna keep Pig Ben, Double D and Leftwich. What they do with Double D and Leftwich in Pig Ben's absence is another matter altogether, but I for one will be sad to see the Charlie Batch era end for the Steelers. For the team, it's the right thing to do. And Chaz should find work - there are at least a dozen teams who could use a good, smart back-up. When his playing days are over, I hope he comes back to his hometown for good. We'll miss you Chaz. Hurry back.
OFFENSIVE LINE:
Last year, the Steelers kept nine linemen and assuming they do the same but there are a dozen lineman on the roster at the moment. At the moment, there are five absolute locks (Max Starks, Chris Kemoeatu, Maurkice Pouncey, Trai Essex and Hotel Flozell [more for his run blocking than his glacial pass blocking]) which leaves Justin Hartwig, Doug Legursky, Adrian Jones, Kraig Urbik, Ramon Foster, Tony Hills and Jonathan Scott battling it out for the remaining four spots. I get the sense (based on nothing at all) that Tony Hills and Ramon Foster have a really good chance of locking up some of those spots, so I'm going to try to keep one eye on the line the whole night. Beyond which, I believe it's time to let Hartwig go and just start Pouncey. If you see a lot of Doug Legursky on Sunday, it may mean the coaches are leaning that way, too.
RUNNING BACK:
Again, last year, they kept five spots for running back. Suspect Mendenhall and Mewelde Moore are givens, which means there are six guys trying to make a push for the last three spots. They list Stefan Logan as a running back, even though he's really just a return guy. If they go with Antonio Brown as the return specialist, I don't think Logan's a factor at all in the running back race. Issac Redman is sure to make the team this year (isn't he?), which means there are spots left for only two guys. Frank the Tank has been on the field as a lead blocker a ton, plus he's a beast on kick and punt return coverage, so that's four. So that means that Dwayne Wright (listed officially as a fullback), sixth round draft pick Jonathan Dwyer and Justin Vincent are duking it out for that last spot.
TIGHT ENDS:
I don't expect a change from last year's three of Heath Miller, Matt Spaeth and David Johnson. Has anybody even see Sean McHugh on the field in the first two games? Eugene Bright? He's probably been out there, but not so as anybody noticed.
WIDE OUTS:
Five is the magic number here. By my count it looks like this: Hines Ward, Mike Wallace, Antwan Randal El and the coaches love Emmanual Sanders. The question is, if they keep only five, what do they do about Arnaz Battle v. Antonio Brown? Of course, if they keep Brown as the kick return specialist, they'll have six wide outs and perhaps only carry four running backs, since Stef Logan was a running back in name only last year.
It gets really interesting on the defensive side off the ball, particularly when you get beyond the line of scrimmage.
DEFENSIVE LINE:
Coach John Mitchell has spoken about how much he loves using the six man rotation of Casey Hampton, Brett Keisel, Aaron Smith, Ziggy Hood, Nick Eason and Chris Hoke. Last year, they kept seven, so keep an eye on these guys on Sunday night to battle for the final spot: Ra'Shon Harris, Steve McLendon, Doug Worthington and Scott Paxson.
LINEBACKERS: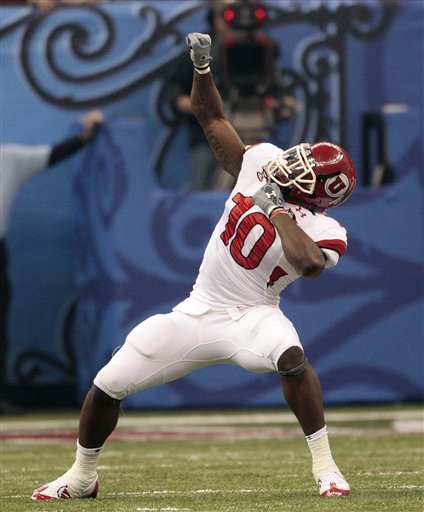 The Steelers seem to always have a surplus of linebackers and some of the fiercest battles for spots are going on here. The mortal locks are (1) James Harrison, (2) LaMarr Woodley, (3) Lawrence Timmons, (4) James Farrior, (5) Jason Worilds and, it seems to me (6) Keyaron Fox. They probably didn't bring back Larry Foote just to cut him, although that's possible. But the battle for the last spot seems to be shaping up between Thaddeus Gibson and Stevenson Sylvester, both of whom have looked very, very good in the action they've seen thusfar. Oh, Patrick Bailey's still hanging around, plus there are a bunch of other guys who will probably be cut sooner rather than later.
SAFETIES:
Troy Polamalu and Ryan Clark are givens. Will Allen's going to start in place of Clark on Sunday (altitude issues), so I think he may be the third man on the roster at safety. So Ryan Mundy (who knows the system and has looked good), Da'Mon Cromartie-Smith, and Justin Thorton are battling for that last spot. I'm thinking Mundy, but it bears watching on Sunday night.
CORNERBACKS:
Again, six is the number we're looking at.
Ike The Stupid
is their #1 guy, and they brought Bryan McFadden back with the thought he would start on the other side. Joe Burnett made the squad last year and he looks pretty good so far this pre-season. That's three. As to the remaining three:
They took Crezdon Butler in the 5th round this year, so short of a complete flame out, he's got a good shot at the #4 spot.
Is it just me, or does Keenan Lewis look better than William Gay? Anybody? That's five.
So William Gay, by virtue of experience, has a serious edge on David Pitman. I guess so, as I can't even recall seeing #30 on the field at all.
SPECIAL TEAMS:
Skippy, Dan Sepulveda and Greg Warren.