After a crappy, penalty filled night in Denver, I'd surmise that collectively, the Steelers are happy to get out of Mile High. Whose stock rose? Whose fell?
Stock Up: Jonathan Dwyer, RB.
First, he showed a really nice burst and vision taking in
this 5 yard touchdown scamper
. Then, he moved a mass of humanity about 17 yards when it looked like he would get nothing. Actually, you couldn't even see his jersey number, just a huge pile of huge people moving inexorably downfield. Immediately after that, he bounced off/over a would-be tackler and took off on
this 40 yard run.
It may not be enough for Dwyer to make the final cuts. He's battled some injuries during camp which have put him at a serious disadvantage and he has a long way to go to be a complete back - his blitz pick-up has been pitiful - but what we saw in Denver was awfully promising. I expect to see a huge serving of Dwyer in Thursday night's game.
Stock Down: Justin Hartwig, C.
The handwriting was on the wall the moment the Steelers drafted Maurkice Pouncey, but there was no way to know it was speed-writing on the wall. Center is a tough position to play mentally and generally it takes a college guy a season or two or three to get comfortable in there in the pros. But Pouncey is a prodigy. Still, the thought heading into camp was that even if Pouncey was ready ahead of expectations, they'd still need Hartwig around as an insurance policy. If they keep Hartwig on the roster, the only person who might need a beefed up insurance policy is
Byron Leftwich
. Justin the Putrid's blocking could not have been worse had he snapped the ball, then immediately sat down on the field and dealt himself a hand of solitaire on his iPhone. He's always been one of the lesser centers in the league, but last night, he proved to be completely expendable. According to the always reliable
Ed Bouchette at the PG, Hartwig is scheduled to make $2,080,000
this year, money that could be better spent elsewhere.
Stock Down: Dennis Dixon, QB.
I scream, you scream, we all scream for Double D. But then, really, um, not so much, no. I still think that Tomlin & Co. were right to take a longer look at Dixon, but now that we've seen him with the first unit, he looked like a third string quarterback, or, depending on how well situated your team is, a second string quarterback, or even a first-string guy who still needs a lot of work. The kid is talented, but the offense clunked along with him in leading the way. Worse, his first interception was inexcusable. I know he was trying to make something happen, I know he was trying to make an impression on the coaches, but it turns out it was the wrong impression. That pass was a bad idea the second it left Double D's hand. He should have known better than to throw that. The second one, the DB jumped the route and the pass was imminently interceptable. I'm not sure how the Steelers are going to fare without Pig Ben for four games, but I do know this - what they cannot afford are pick sixes by whichever QB starts for them. And thus endeth the Great Dennis Dixon versus Byron Leftwich debate.
Stock Up: Charlie Batch, QB.
Yeah, I know Charlie threw a pick-six, too, but on his interception, it looked like either
Tyler Grisham
or
Emmanuel Sanders
was supposed to break off or run a different route. For that play to work, the QB has to make the throw on faith that the wide out will be there. Other than that, Charlie looked good. Very good. There clearly isn't room for him on Pittsburgh's roster when Pig Ben comes back, but Charlie looks better than both Derek Anderson and Matt Leinart in Arizona. When the axe falls here, and it will, Chaz should get himself on the first plane to Phoenix. I'm sure Whizzer will be glad to see him.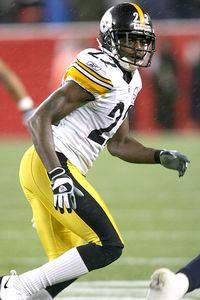 Stock Up: William Gay, DB.
Oh, it almost pains me to admit it, but as a nickel back, the guy's not bad. Just as a starting corner, well, not so much. His interception of Tim Tebow was a thing of beauty last night -- he made a great read on the play, baited Tebow into the throw and then, most importantly, actually held on to the ball for the interception. Well done, Mr. Gay. Well done.
While we're in the defensive backfield,
Stock Down: Keenan Lewis, DB
. Lewis, starting in place of Bryant McFadden (who has a pectoral injury) gave up an eight-yard catch to Brandon Lloyd. Then he proceeded to knee Lloyd and appropriately enough, got a 15-yard unsportsmanlike conduct flag. This AFTER he was flagged earlier in the game for a late hit. Two unsportsmanlike in one game? C'mon. Lewis was starting due to McFadden's injury, but B-Mac has been less than awesome and the rumbling around camp was that Lewis actually had a shot to win the starting job. Epic fail. Although I have to admit, I enjoyed coach Tomlin's turn as coach Cowher. He grabbed Lewis by the collar and got all up in his face when he came off the field. Vintage Bill Cowher move. And I loved it.
Then this, from the Trib
- apparently Lewis, The Stupider, punched some glass thing and it shattered all over the joint. He has just taken himself from second or third on the corner depth chart and put himself in a battle for the sixth and last spot. The Stupider, indeed.
Stock Down: Dan Sepulveda, in this instance, K
or more precisely, kick off specialist. Riddle me this: Why is it that the Steelers kickers are unable to put the ball in the endzone on kick offs? Even in Denver! Sepulveda's first kick went out of bounds. (Shaking head.) His second kick went to the 12 yard line. Third? Well, the Steelers didn't get so many chances at kick offs, what with all the stalled drives and interceptions and such, and Reed handled the two kick offs in the second half. It should be noted that Skippy's kicks were nothing to write home about, but were a bit better, coming down at the 8 and the 3 yard lines, respectively.
Need I even say it,
Stock Up: Maurkice Pouncey, C.
The kid went up against
Jamal Williams
, one of the best nose tackles in the league without question, and held his own. Williams gives wily veterans complete fits, but Pouncey looked good in his best test of the preseason. He will certainly have some mis-steps and missed assignments along the way, but there is no question Pouncey should be the starter on opening day and has the capacity to become an elite center at some point. And while we're here again ...
Stock Down: Bruce Arians playcall on 4th and 1.
Love him or hate him, you have to admit, BA gets his brains all in a twist in short yardage situations. He must think he's the cleverest guy in the room. Nobody would expect Double D rolling out on a 4th and 1. Except that they would. And do you know why? First, they don't have to stay at home, because you really don't need five big bodies clogging the middle to stop the diminutive Mewelde Moore. And second, the Steelers almost never run between the tackles anymore in short yardage situations. I have a novel idea. How about run the ball with Issac Redman. Behind your burgeoning superstar at center. You know what? If it doesn't work, you don't have to try it again. The thing is, the play that he called would work if the defense was thinking a run between the tackles was coming. If the defense is thinking that way, it creates an opportunity for Dixon on the edge. But Denver wasn't fooled. Not by a long shot. And in fact, nobody's been fooled by BA's, er, creative play-calls in short yardage situations in a long time. Nobody expects the Spanish Inquisition. Except that they do. All the time.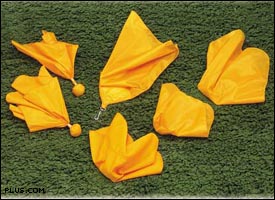 Stock Down: Everybody who contributed a stupid penalty.
Sepulveda for kicking out of bounds; Keenan Lewis, unnecessary roughness TWICE; Lawrence Timmons for roughing Kyle Orton; James Harrison for unnecessary roughness; Flozell Adams for consecutive false start penalties; and Stefan Logan for unsportsmanlike conduct. Man.