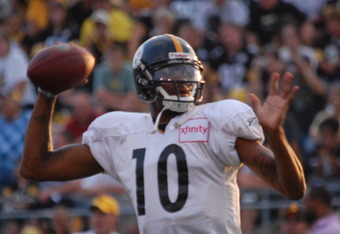 I know Double D was playing against the second string, but second string guys are still NFL players, players who get significant minutes in games, not the guys signed to the practice squad or tossed to the recycle pile. Okay, so they were the Lions, but you can only play who you play. I also realize that Dixon is a quarterback prone to run and in Pittsburgh, where the ghost of Kordell Stewart is ever present, that's never a good thing. But the only things Dixon has in common with Stewart are: they both wear/wore number 10, they're both fast, and they're both black. That's it.
Dixon is cool and calm, freakishly so considering the paucity of playing time the guy has gotten, unlike Stewart who, no matter how many games he started, always looked like a startled deer in the headlights when he dropped back to pass. I was filled with dread when Stewart was called upon to make a key third down pass, but I don't get that same anxious nausea with Dixon out there. I like the way he runs the offense and he certainly can fly when he wants to. Maybe he even runs too much, but so did John Elway, Steve Young and Donovan McNabb early in their careers. Dixon will learn as he goes. Plus, he runs smart - right for the sticks and then out of bounds.
He runs play action so well he faked out the camera crew a couple of times on Saturday night and his passes were right on target for the most part. His pass to Antonio Brown was in the exact right spot so that Brown didn't have to slow down for it, but rather, had to get into full sprint mode to get it.
If the presumption is that the offense might be less explosive but run more smoothly with Leftwich, I'm not so sure that's the case. The offense is crisp with Dixon in there and when he doesn't see anything he likes downfield, he takes off, picks up a first down, and goes out of bounds. QB's who throw the ball away are often lauded for doing that and I think for Dixon, it's the same thing, thinking, "Ward's covered, there's coverage over the top on Wallace, Miller's covered. F*ck it. I'll pick up 6 yards with my legs." I have no problem with that.
I'm just saying, I want to see more of Dixon. The coaches have not run him with the first team offense in camp, according to
John Harris at the Trib
. I sure would like to see him go out there with the first team and battle against the Giants first team on Saturday night.
More scattered notes from a disjointed, rain soaked pre-season game.
-- Mendenhall still has a ragin' case of the mad fumblitis, and if he continues to carry the ball so far away from his body that one can only surmise it is tainted with ebola, it's gonna be a long-ass season for whoever is lined up at quarterback. Sometimes a player gets a helmet right on the ball or right on his elbow and loses the ball, but the problem with the Fumbling Fool 2.0 (Edition 1.0 was
Richard Huntley
) is that these aren't the kinds of fumbles he has. He loses the ball for almost no reason. Lions' safety C.C. Brown barely waved at the ball and Mendenhall coughed it up. I'm no super genius like
Tom Coughlin
, but tuck the ball up near your shoulder, you idiot. We know the kid can run. The question is whether or not he can learn how to run
with the football
. Mendenhall wasn't the only one with the ragin' fumbles on Saturday, but he was the only one who was drafted in the first round.
-- The first string offensive line looked slow, confused and weak. Was it me or was Flozell Adams' footwork positively glacial? Byron Leftwich got hit way, way too much.
-- The good news is that first round draft pick Maurkice Pouncey got a lot of work at center and looked great. Line guys, like quarterbacks, often look lost when they make the move from college to pro, but Pouncey looked like a seasoned vet. Tony Hills and Ramon Foster impressed, too. Again, I know it was against the 2nd and 3rd string, but they can only do what they can do.
-- The wideouts, a question heading into this season, looked like a real bright spot. Antonio Brown put on a show. Nobody can throw far enough to catch up with Mike Wallace. And Arnez Battle looked like a nice free agent pick up.
-- Defensively, Ryan Clark had a nice interception, so that's a good thing.
-- The other good news was that Laurence Timmons looked healthy and James Harrison was in mid-season form, putting Jeff Backus on his back a couple of times.
--
Da'Mon Cromartie-Smith
who arrived in Latrobe a few days before the game hit DeDe Dorsey so hard, I think Dorsey's dog is in the hostital. So, I guess what we can surmise from this game is that the Steelers are just fine at linebacker.