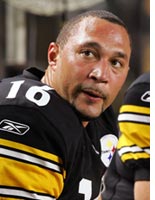 Back in 2006, I was traveling in New York over Thanksgiving weekend and I wasn't going to be back in Pittsburgh until Monday, which meant - horror - I would miss the Steelers v. Ravens game. Fortunately, a friend recommended NYC's finest Steelers bar - Scruffy Duffy's in Hell's Kitchen. (Sadly, it closed a couple of years ago, because it was an awesome joint.) I got there early. Early enough to grab a coffee and wander the neighborhood before heading in and settling right behind a fellow with a #35 Dan Kreider jersey on. Dan Kreider! I had to talk to this guy. His name was Harold and he had grown up, if memory serves, in Baldwin.
It turned out that meeting Harold was the highlight of my day: the Ravens defense swarmed, smelling blood in the water, and then Bart Scott almost killed Pig Ben, who wasn't Pig Ben then, just Ben, the idiot who drove his motorcycle around town sans helmet and had half is brains spilled out on 2nd Avenue.
He lay there lifeless on the Baltimore turf and for a moment, honestly, I thought Roethlisberger was dead. The entire bar paused but then Ben twitched or something and Harold, god bless his Dan Kreider loving heart, started a Charlie Batch chant -- like "Over! Rated!" during college basketball games, only "Charlie! Batch!" A great noise grew up in the bar and somehow, despite the score and despite the fact that the Ravens were unequivocally the better team that day, and that it was the season in which Bill Cowher mailed it in, and the Bus was gone, and there was a clear Super Bowl hangover, we felt soothed by the ritual of chanting Charlie's name.
None of which is to say that I want Chaz Batch leading my team for a full 16 game season.
But Charlie is strangely calming, steady. He's like the relative you trust to watch your kids in an emergency situation. No, the kids won't get their homework done. And yes, they'll probably end up eating foods that you wouldn't let them have. But when the emergency is passed, he'll hand the kids back to you, none the worse for wear, safe and sound, and maybe even a little happy from eating treats they don't get at home.
Maybe that's enough. Some Oreos, some television, make sure nobody swallows a tennis ball or puts a screwdriver in a socket. Charlie's job, as I see it, is simply not taking the killer sack a killer moment, throwing the ball into the ground rather than in an area where it can be picked off, just keeping the huddle warm and organized. He doesn't have to be McGyver, just my aunt Florence.
The question really is -- what can the rest of the team do around Charlie/Aunt Florence for the next two weeks?
Most years, I would be happy if the Steelers special teams were just indifferent, not a plus but NOT a minus. Funny how terrible play lowers expectations. But this year, even with Skippy's easy miss in the waning seconds of regulation versus the Falcons, the special teams have been a decided plus, evidenced by the gutsy call in Tennessee to run the reverse to Antonio Brown on the opening kickoff. Sepulveda has been booming the ball, so he can get them out of field position jams; Skippy was money against the Titans and has even kicked off into the endzone four times; and Stevenson Sylvester is a one man crushing machine on return coverage.
Meanwhile, I have to hand it to the offensive line. It wasn't pretty last week. Not by a long shot. This is the unit I consider to be the weakest on the team even at full strength, but with Max Starks out, Trai Essex going down, and players dropping in the heat, they managed to hang in there. Jonathan Scott jumped back and forth from left tackle (where he was starting in place of Starks) to right tackle, to spell Hotel in the 2nd half. Tony Hills came in at came in at left tackle when Scott moved. Essex went down and Doug Legursky came in for him. Guys got beat. There were pre-snap penalties. There wasn't much room for Rashard Mendenhall and not much more time for Chaz, but given that the only player on the line who played every offensive snap and who stayed in one position the whole time was Maurkice Pouncey, it's remarkable that the line was able to hang tough against a very good Tennessee defense. Under normal circumstances, I wouldn't be happy with the line allowing four sacks, but given all the givens, I'd say four sacks was a win.
Things should be a wee bit easier this week. Tampa's defense is not the defense of the Tony Dungy glory days. Against offensive juggernauts like Cleveland and Carolina, the Bucs have given up a total of 618 yards of offense.
But really, with these guys playing defense, I think the Steelers offense doesn't have to do much at all anyway.
Lawrence Timmons is everywhere. He's second in the league in tackles with 24 and more than that, he's been in perfect position and shown great form and discipline. Late in the Titans game, it looked like Chris Johnson had a lane. Timmons not only came from nowhere to close that lane, he made a perfect Jack Ham tackle. If you're a linebacker, and you play in Pittsburgh, being favorably compared to Ham is the greatest compliment I can dole out.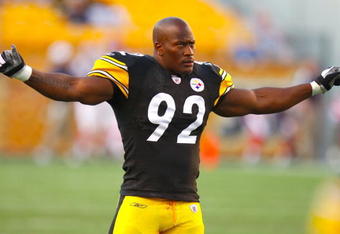 James Harrison is on a mission to destroy all in his path. Silverback is always a good player, but we've seen him do this before, elevate his game and his intensity when the Steelers need it most.
Aaron Smith is playing run defense better than any other d-lineman in the league. That's right -- better than any other defensive lineman out there.
Troy Polamalu is simply transcendent.
The concern I have is if the Steelers defense can repeat what they've done in the first two weeks. It looked like a MASH unit in Tennessee. So I hope that Mike Tomlin and Dick LeBeau have given these guys what they need most - rest. They know what they're doing. They understand the LeBeau defensive schemes. They need some down time - physically and mentally - to get ready for Tampa. Maybe some Oreos and time in front of the television. At Charlie's house.