By now, just two games into the season, SteelersNation has come to expect great, punishing, dominant, flip you on your ear, knock you silly, make you pray that the scoreboard will show 00:00 to end the suffering kind of defense. And I expect that most of us thought we'd see another performance like that this week, too. We get used to things fast around here.
The Steelers defense did not disappoint, mind you, but the big news is that the offense came to the party. And they even brought party favors.
Old Man Charlie finished the day with a QB rating of 106.5. Not bad for a guy who was fourth on the depth chart going into training camp and one gimpy knee away from the waiver wire.
Oh, it was so easy to write off Charlie. Too old. Washed up. Too fragile. (I myself was guilty of cracking a lot of osteoporis/broken hip/bursitis and/or any other variety of injuries that beset the elderly jokes at Charlie's expense.) Then he threw a homely interception to start the game and, even worse, he looked upset on the sidelines. "Shake it off, Charlie," I said to nobody in particular.
Next drive, Mewelde Moore dropped a nice little pass that probably could have picked up a first down I know I was not alone in thinking the defense would have to do all the actual scoring on the day. [They did, but it was nice that they didn't
have to.
]
Hitting Mike (Santonio Who?) Wallace for a 46 yard touchdown strike seemed to get Steel Valley Chaz' mojo going. It looked easy for a while after that. See Charlie throw deep. See Charlie run. See Charlie slide around the pocket to create more time for his receivers. See Charlie hit a wide open Hines Ward in the back of the endzone. Speaking of old. Old or not, how do you let the Steelers all-time leading receiver (in catches, in yard, in touchdowns, in games played) get so freaking open in the back of the endzone? Just wondering. Raheem Morris is probably wondering the same thing right about now.
All that, plus a great day for Rashard Mendenhall.
And a great day for another guy, one who I had written off completely: William Gay. Not that there's anything wrong with that. Gay was gap sound and he made great tackles in space. He didn't try to do too much. Knowing that Josh Freeman is probably twice his weight, he took Freeman down by grabbing him around the ankles. The Steelers list Gay at 5' 10" and 190 pounds. I doubt he's that big, even. So it's a pretty smart play to not try to take on all 6' 5" of Josh Freeman, facemask to facemask. Perhaps young William has learned a thing or two since last year. He made a number of great tackles.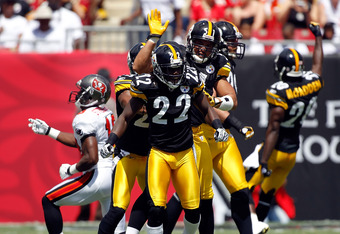 The rest of the Steelers defense looked like the Steelers defense.
James Harrison scared Bucs wideout Sammie Stroughter so much that he coughed the ball up into the waiting hands of Brett Keisel, who rumbled down the field, Andy Russell-like, for a touchdown. Nice beard, Brett. Nick Eason contributed a sack. Lawrence Timmons had a sack. Ryan Clark scooped up another fumble.
Freeman completed 20 of 31 passes, but averaged only about six yards per completion. My god. That's a Kent Graham-like stat. Cadillac Williams was held to just 15 yards. Cadillac? Sounds more like a Dodge Dart.
Now seems like an appropriate time to point out that the Steelers have allowed 58 yard rushing, 46 yards rushing, and 75 yards rushing to the Falcons, the Titans and the Buccaneers, respectively.
All you bastards in the AFC North who wrote the Steelers off and thought this was a two team race, not so fast. Yeah, I am looking at you Ray Ray and Thuggs, and you, too, Batman and Robin.